I used to write posts titled 'Sunny Sunday', but let's face it, we haven't seen, nor will we see, sun for a while.
Sundays always seem to be the day I do activities with Lamb, whether that be arts & crafts, days out or visiting friends or family. Sunday really feels like 'family day' to me, so I make an effort to keep Lamb busy with all the fun stuff I can think of.
With the lack of sun, we are all stuck with indoor activities. Apart from yesterday, when Daddy Lamb took Lamb to the park in the torrential rain and watched him whizz down the slide like a torpedo (which Lamb loved of course!)
Today's activity was baking. Lamb seemed super keen, especially as we were baking Olaf cookies. So off we went to the kitchen, Lamb in his high chair with his mini whisk and mummy armed with everything else (the mini whisk wasn't necessary but he insisted on holding it).
Unfortunately Lamb's attention span last around 10 minutes, so I was left baking on my own while he watched The Gruffalo and did some colouring! I'm really looking forward to him actually wanting to do all of these fun things with me…
The quick bake boxes are so good for making with the little ones. Everything is measured out for you, and they have the joy of decorating with their favourite characters.
I still like to bake from scratch with Lamb, but like I said earlier, his attention span is limited, so I'd rather use a box until he allows me more time to bake!
And at £1.79 in Aldi, you can't really say no can you!
If you're looking for something fun to do on a not so sunny Sunday, why not try a little baking and let your little one choose a bake in the box of their favourite character.
Alex x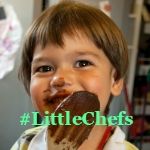 (Visited 153 times, 1 visits today)