"You are the bows from which your children as living arrows are sent forth"
I'm a week late posting this so apologies that you're getting 2 Living Arrows posts in one week. I haven't quite got into using my planner yet, which is really naughty of me as we're already half way through January!
The past 2 weekends we've spent a family day at the Zoo, so my photos are very animal themed.
"You are the bows from which your children as living arrows are sent forth"
Little Lamb
Lamb is obsessed with animals. At the moment his favourite is a rhino and he also loves elephants. We spent the day at the zoo and had to follow every path and see every animal. We are very lucky to live fairly close to the zoo, which means we go at least once a fortnight. You'd think he'd get bored of going, but he doesn't, and to be honest neither do I. I mean, you can never look at a orang-utan too many times can you!
Baby Bear
I don't really take many photos of Bear when we're at the zoo because he's usually in his pram. But I couldn't resist taking one of him while he was going for the 'East 17' look. Poor kid.
He's happily watching the penguins swim whilst chewing on his Boo Chew bangle.
I wanted to include this photo of Bear because it's something you'll rarely see. Here you have my little cub sitting and playing quietly by himself. He isn't trying to climb the stairs, cruising along the sofa and pulling my laptop off my knee. He isn't try to eat the cat food/carpet/phone charge. He's sitting nicely, entertaining himself with age appropriate toys! I think I had about half an hour of thins. Bliss.
~A~
You can see more of my Living Arrows posts here.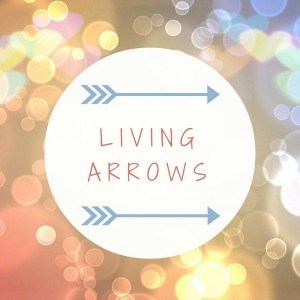 (Visited 43 times, 1 visits today)