Firstly, I'm sorry this is so late, I should of posted this a week ago, but I'm just so behind with blogging. Secondly, I apologise for my lack of craft projects recently. Each month we are sent a box of crafty goodies from Bostik which I have tried my hardest to use with Lamb. The things is, we have gone through a bit of a dry spell when it comes to being creative. He's lost interest.
Well, that's not entirely true. He always asks to paint and colour, but his concentration lasts all of 5 minutes before he's running off looking for toy trains.
This month I managed to sit with him for an hour and create some holiday crafts. Not a lot but I'm happy we actually finished a project!
Glittery Lollipops. 
Using glittery card, random things to decorate and coloured lollipop sticks we made ourselves some glittery lollipops. This is the perfect little project for toddlers. Give them a glue stick and let them stick, stick, stick!. Then simply cut out the lollipop shapes and attach to the lollipop sticks. Alternatively you can cut the lollipop shape out first, then decorate.
Lamb has a love for anything lollipop at the moment so absolutely loved this craft project. Obviously I have themed this on holidays, but you can create lollipops for all themes. How about easter lollipops, christmas lollipops, or even halloween?
Mini Name Bunting
In our little box of goodies we got some really cute little flags for bunting. Using colourful foam letters, I made some mini bunting to hang up on Lambs bedroom wall. To keep with the holiday theme I attached a wooden bucket and spade shape to the end! This would be really easy to make from scratch. All you need is fabric, a hole punch and some string!
This could be a really lovely gift for someone. Maybe baby girl/boy bunting for a new baby? Or congratulations bunting for someone who has achieved something or got married? What about making bunting for a new home with really pretty floral and striped fabrics?
With all the rain we've been having I'm sure a lot of you have been stuck indoors! What crafts have you been doing this summer?
Ax
* The craft box was provided to me free of charge by Bostik as part of the Tots100/Bostik Craft Bloggers Club.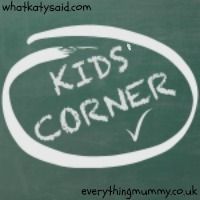 (Visited 138 times, 1 visits today)