For the last couple of months we've been trying out the Joie Stages car seat. Last year I was lucky to be able to test the Joie Chrome pushchair for the Mother & Baby Awards, so I was keen to test out some of their other products. You can read my review on the Joie Chrome here.
Let me tell you a little about about the Stages car seat.
It's a group 0+/1/2 car seat – birth to 25kg, approximately 0-7 years old
Rearward faces up to 18kg
Forward facing from 9 to 25kg
Side Impact Security provides extra protection for the head, body and hips
1-hand, 5-position headrest adjustment ensures a perfect fit for growing children
5-point harness system with front tension adjustment
Padded harness cushions and lower buckle cover for baby's comfort
As Lamb was almost 2 when we received the car seat I was surprised to find out he was still able to be rear facing. In fact, this car seat is rear facing to approximately 4 years. I have to be honest, this baffles me. I'm absolutely aware of the safety benefits from being rear facing, but how a 4 year old can be seated that way is something I don't understand. Where do their legs go?
Well, I tried Lamb rear facing and he was fine. His legs did look a little bent, but it didn't seem to bother him. He looked comfortable and content facing that way, even after many months facing forwards in our old car seat. So I'm up for continuing with rear facing for a bit longer.
Installing the seat this way was super easy. I'm not used to fitting a car seat with the seat belt as our forward facing car seat uses isofix. However, it didn't take me long to read the instructions and securely fasten the seat into the car.
The instructions give you a step by step guide on securing the seat in place but if you need a little help take a look at this useful video.
Moving on to forward facing. Boy did I struggle to get the seat to fasten securely. Seriously 3 of us tried, and each time the seat would move from side to side and the belt just wouldn't tighten. We tried both of our cars, followed the instruction manual and watched the video above, but we just couldn't get the seat to fit.
That's where a lovely chap from the Joie team comes in. While at The Baby Show last month I explained to him that I was reviewing the car seat but was struggling to fasten the seat in place. I needed to double check I was doing it right before ranting in a blog post about there being something wrong with the seat.
Turns out, all 3 of us must have been doing something wrong, because while at the show not only did he demonstrate how to secure the seat with the seat belt, he also got me to try and I did it perfectly first time! What is the lesson I have learned from this? Pop to your local car seat stockist for a demonstration and practice before you buy. Simple.
So, back to the forward facing installation. Once I got home I gave it another go, and surprise, surprise the seat fastened safely. We were now able to try out the car seat forward facing! It's actually really easy to fit with the seat belt, I have no idea what we were doing wrong, but I can now install safely with the seat belt thanks to the helpful Joie team member.
That's what I love about The Baby Show. There's always someone there to talk to about products, you can try before you buy and really get to know the brand before parting with your money. The Joie team had lots of products on show, so well worth a visit if you want test out their prams and car seats.
You can read my post about The Baby Show here.
One thing that really impressed me about this car seat is the comfort. There's plenty of cushioning for newborns, and once the newborn insert is removed the seat is still nice and comfy for toddlers. Lamb is so comfy in this seat he even rests his leg over the side so he can fully relax! 🙂
With our old car seat, on long journeys Lamb would sleep for 1 1/2 – 2 hours max. In the Joie Stages he slept for 3 hours on our way back from visiting family! So that tells me it's a really comfy car seat.
The fabric is high quality, and I love that the newborn insert is cream, rather than the whole seat being black. There's a cup holder on the side so a drink is with easy reach of your little one on long car journeys. The harness feel very secure and safe, and the buckle seems extremely hardwearing and much higher quality than our previous car seat. Little details like this really impress me when I'm buying a product for Lamb.
The fact that this car seat is from newborn to age 7 is a great money saver. There are so many added costs when having a baby so knowing you only have to buy a car seat once is really reassuring.
I love the adjustable head rest. Very easy to move up and down depending on how tall your little one is, and will obviously grow with them over the years. Having this also means I can make the seat taller for my nephew when I babysit.
The Joie Stages retails for around £150, which I think is really reasonable considering it's the only car seat you will need to purchase for at least 7 years. For a list of stockists you can visit joiebaby.com and click shop.
Have you tried Joie products before? I'm a big fan and definitely recommend the Stages car seat (C'mon, it won gold at the Mother & Baby Awards last year so it's obviously fab!)
Alex x
Really bad photo, but look how cosy he is! 🙂
* I was sent this product free of charge in exchange for my honest opinion and review.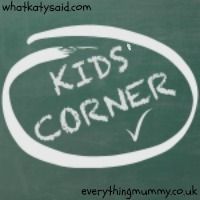 (Visited 2,591 times, 1 visits today)